Drivers

ready for 2023 Caribbean Junior Karting contest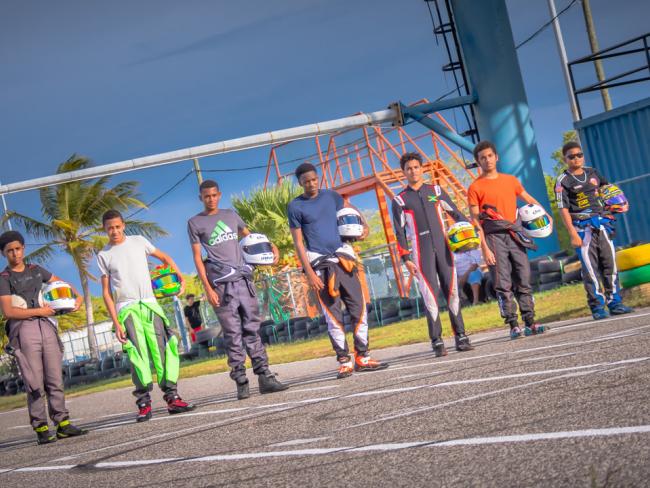 Thirteen karters aged from 12 to 17 from Barbados, Jamaica and Trinidad and Tobago will contest the third Caribbean Junior Karting Academy Trophy (CJKAT) this weekend (July 21-23) at the Palisadoes International Raceway in Jamaica. The competition is being hosted for the first time by the Jamaica Karting Association (JKA), which will also be staging rounds four and five of its annual championship on the same programme.
  Funded by the Federation Internationale de l'Automobile's (FIA) Sport Grant Programme and administered by the Barbados Motoring Federation (BMF) CJKAT will again be contested by a quality field this year, which includes a number of past and present Champions. The format will be the same on each of the three days of racing, with practice and qualifying sessions followed by three 10-kilometre races and a 15-kilometre Final.
  Jamaica's Zander Williams is the most successful of the eight drivers returning to the competition; he finished fifth in 2019, then third last year, when he claimed one pole position and won four races including the Friday and Saturday Finals. Fellow JKA members Luke Spencer and Matthew Warmington finished seventh and 10th respectively last year, Warmington one of the five race-winners.
  The three drivers from T&T include Naomi Jade Garcia, who was the highest-placed racer aged 14 and under last year, finishing fifth overall and also a race-winner. The Barbados contingent is headed by Daniel Ullyett, the BKA's Champion Driver in 2020 and '21, who finished 11th last year, with a best result of sixth.
  Everyone will race identical Vortex-engined Exprit OK-Junior karts, creating a level playing field so results are based on driver talent. This is an individual driver competition, not a contest between the nations, but there are certainly inter-territory rivalries.
  CJKAT is modelled on the CIK-FIA Karting Academy Trophy, which has been the first rung on the ladder of the FIA's single-seater path to F1 since 2010, previous winners including current Ferrari driver Charles Leclerc, who won in 2011 at age 12. To allow more opportunities for Caribbean hopefuls to race, the regional series caters for a wider age range than in Europe, where the limits are 12 to 14 years old. More background is to be found on the web site – www.cjkat.com – including profiles of each competitor.
Caribbean Junior Karting Academy Trophy 2023
Palisadoes International Raceway, Jamaica, July 21-23
Entry list in alphabetical order
Donche Blackman (BAR) - 15 (DoB 01/02/08); 2020 Easykart 100cc Junior 3rd, BKA
Justin Donaldson (JAM) – 13 (DoB 03/03/10); 2019 Rotax Micromax Champion, JKA
Naomi Jade Garcia (T&T) – 12 (DoB 19/11/09); 2022 Sportsman Champion, TTKA
Adam Mustafa (T&T) – 14 (DoB 09/08/08); 2022 Sportsman podium finisher, TTKA
Connor-Patrick Payne (JAM) – 13 (DoB 02/10/09); 2022 Rotax Junior competitor
Aran Sharma (T&T) – 16 (DoB 16/03/07); 2022 Sportsman 3rd, TTKA
Luke Spencer (JAM) – 13 (DoB 16/03/10); 2022 Junior Championship 2nd, JKA
Raizer Stoute (BAR) – 14 (DoB 16/10/08); 2022 Easykart 100cc 4th, BKA
Daniel Ullyett (BAR) – 13 (DoB 26/11/09); 2020 & '21 Overall Champion, BKA
Eddie Upstone (JAM) – 14 (DoB 10/08/08); 2019 Rotax Junior 3rd, JKA
Nathan Sewell (JAM) – 12 (DoB 04/06/11); 2021 Rotax Championship podium finisher
Matthew Warmington (JAM) – 13 (DoB 13/03/10); 2022 Rotax Junior 4th, JKA
Zander Williams (JAM) - 17 (DoB 10/05/06); 2022 Rotax Junior Champion, JKA
BKA – Barbados Karting Association; JKA – Jamaica Karting Association; TTKA – Trinidad and Tobago Karting Association
Qualifying rounds: Rounds 1, 2 & 3, July 21-23 at Palisadoes International Raceway
Grid positions: Race 1 - based on Qualifying (if tied, the first to set the time); Race 2 - based on Qualifying, with the top 10 places reversed and the rest of the field in order of Qualifying; Race 3 - based on each driver's best lap time from Races 1 and 2; Final - based on points scored in Qualifying and Races (if tied, the higher Qualifying position)
Points system: Qualifying – 6, 5, 4, 3, 2 to the top five, with 1 point each for the rest; Races - 20, 16, 13, 11, 10, 9, 8, 7, 6, 5, 4, 3, 2, to the top 13, with 1 point each for the rest; Final – 30, 24, 19, 16, 15, 13, 12, 10, 9, 7, 6, 4, 3, 2 to the top 14, with 1 point each for the rest.
For media information only. No regulatory value.
For further information
Web site: www.cjkat.com
E-mail: ClubCorrespondent@bmf-fia.com
Upcoming Events
Stay tuned for our upcoming events!